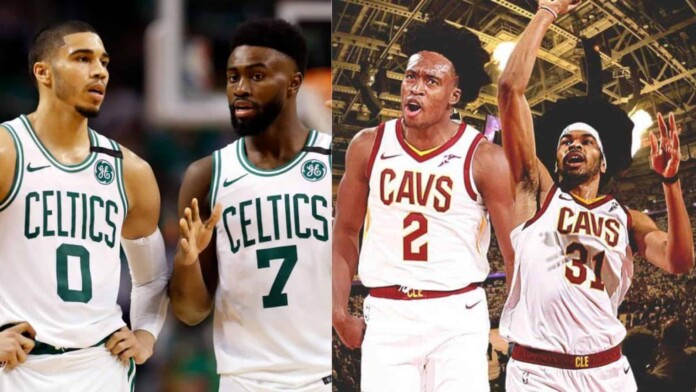 Boston Celtics vs. Cleveland Cavaliers Matchup Preview (11/12/2021)
By Max Heering
The 5-6 Boston Celtics will be playing the very injured 7-5 Cleveland Cavaliers in Cleveland on Saturday. The Celtics beat the Toronto Raptors 104-88 in their last game. Jayson Tatum led the Celtics in scoring with 22 points. All of the starters and sixth man Josh Richardson scored double-digit points. They accounted for 92% of the Celtics points in that game. The Celtics had six more offensive rebounds than the Raptors and took 17 more shots.
The Cleveland Cavaliers lost their last game to the Washington Wizards 97-94. As I mentioned earlier, the Cavaliers are very injured and playing without Collin Sexton, Lauri Markannen, and Kevin Love. Ricky Rubio led the Cavs in scoring with 20 points off the bench. Darius Garland and Evan Mobley each scored 19 points, and Jarrett Allen had a 13-point, ten-rebound double-double. The Cavs had a six-point lead entering the fourth quarter but could not hold it together in the fourth and were outscored by nine points.
Celtics vs. Cavaliers Predictions
If you asked me a week ago, I would have told you to bet on the Cavaliers to beat the Celtics at home. Lauri Markannen and Kevin Love had already entered the league's health and safety protocols, but Colllin Sexton was healthy. Then, Collin Sexton went down with a meniscus tear.
Collin Sexton was a spark plug who played ferocious defense and could throw down powerful dunks. Now that he is out for an extended period, everything is up in the air for the Cavs. They still have pieces in Jarrett Allen, Darius Garland, and Evan Mobley, but they lose a lot without Sexton.
The Celtics will be playing without Jaylen Brown, but, other than that, they are healthy. They will not win this game easily, but they will win behind Jayson Tatum, Marcus Smart, and Al Horford.
My Prediction: Celtics 108, Cavaliers 101.
Are you looking for a new sportsbook to bet on the NBA? 
If you're signing up for a new sportsbook for basketball here are two of the best welcome bonuses available:
Get a $25 free live betting play and $1000: -CLAIM THIS BONUS- 
Double your first deposit up to $1000 and get a $20 casino chip: -CLAIM THIS BONUS-