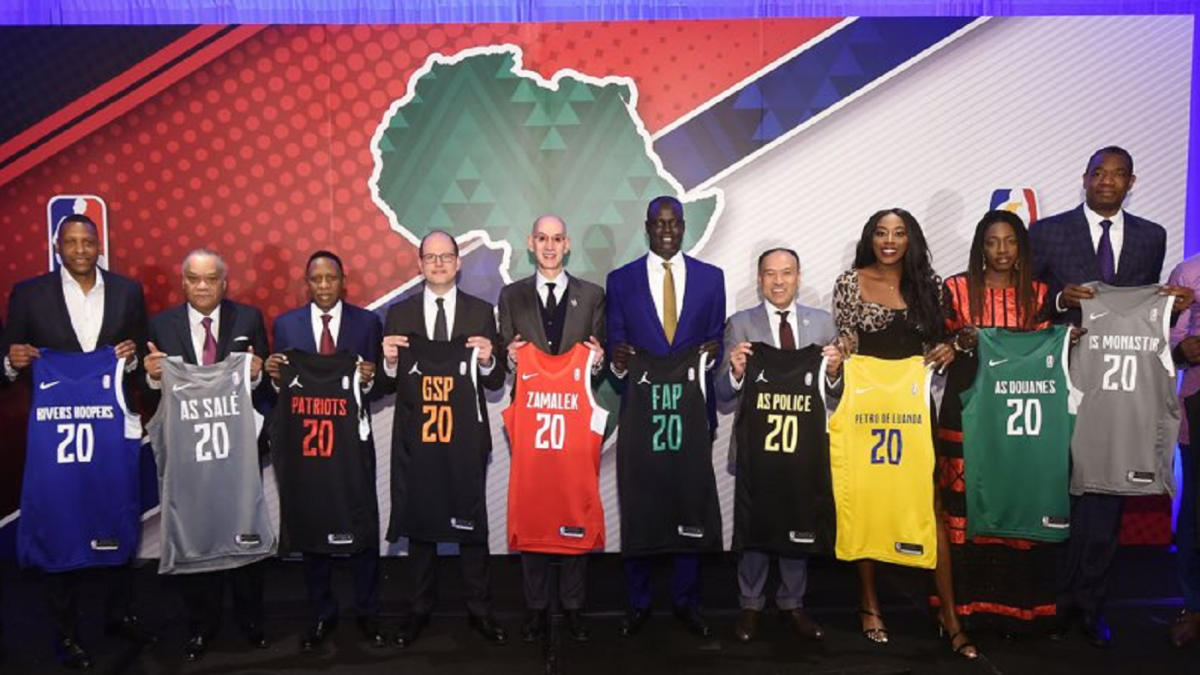 The
 Big Business of the NBA Goes to Africa
The NFL, MLB, and NHL all have international players and enjoy popularity in other countries. But none of them hold a candle to being an international and global phenomenon compared to the NBA. An NBA partnership with Africa is meant to be.
This season the NBA has 107 international players on its rosters from a total of 41 players, including a record-tying 14 players from African countries.
European players can trace their roots to the NBA through Hank Biassatti. The Italian-born Biassatti first played on an NBA team in 1946. But back then, it was a mere trickle of foreign-born players coming to the NBA.
The floodgates began to open in the 1980s when the first African made it to the NBA in the person of Hakeem Olajuwon. The dominating center became one of the best players in NBA history and a hero to Nigerians and the whole of Africa. 
There have now been 63 NBA players from the continent of Africa, with Nigeria and Senegal being the countries that produced the most. And that has meant big bucks for the NBA, including merchandise sales and media and licensing rights.
The formation of NBA Africa, with an initial value of $1 billion, was only natural. The sports betting market will open their arms to offer up wagering on the NBA in Africa.
Basketball Africa League
Along with NBA Africa and the business investment made jointly by African companies and the NBA, is a new league called Basketball Africa League. The BAL has already begun play with 12 teams from all over Africa. It's a joint venture between the NBA and the International Basketball Federation, and for this first season, there will be 26 games, all played in Rwanda.
BAL president Amadou Gallo Fall said of the league, "Through the BAL, we will provide a platform for elite players from across the continent to showcase their talent and inspire fans of all ages, use basketball as an economic growth engine across Africa, and shine a light on Africa's vibrant sporting culture."
The 12 teams of the BAL first had to qualify by either winning their home country's national league or by winning a qualifying tournament. The 12 teams are from Algeria, Angola, Cameroon, Egypt, Madagascar, Mali, Morocco, Mozambique, Nigeria, Rwanda, Senegal, and Tunisia.
NBA Africa Modeled After NBA China
The business side of NBA Africa hopes to operate similarly to the way NBA China has worked since it was first created in 2008. Started with a $253 million investment from partners that included Disney, NBA China is now worth an estimated $5 billion and has given the league greater access to a market of 1.4 billion people.
The population of Africa is almost identical to China's, with 1.396 billion people, according to the most recent United Nations estimate. Although unlike China, which was much later in coming to its appreciation of the NBA, in large part because of Yao Ming, who went to the league in 2002, Africans have a nearly forty-year history of NBA basketball stars.
One thing that will also differ between NBA Africa and NBA China is the running of the BAL. The NBA operates the Basketball Africa League, and the NBA has the full support of Africa. However, the Chinese Basketball Association is state-run. The relationship between the NBA and China remains strained following the dust-up in 2019 over tweets from an NBA executive that supported pro-democracy protests in Hong Kong.
The Investors
Giving NBA Africa instant credibility is investor Dikembe Mutombo, who is Congolese. He is joined by investors/former players Luol Deng (South Sudan), Grant Hill, Joakim Noah (his grandfather was a Cameroon soccer player), and Junior Bridgeman, and a former Milwaukee Buck turned business mogul estimated to be worth more than $600 million.
Joining the former NBA stars are two of Africa's most influential business leaders, Tunde Folawiyo and Tope Lawani. Folawaiyo is CEO of the Yink and Folawiyo Group and is a Nigerian worth $650 million. Lawani is a Nigerian national and Harvard grad and is head of Helios Fairfax Partners, an investment group with capital valued at $3 billion.
Both Folawiyo and Lawani are on the NBA Africa board of directors. Along with NBA commissioner Adam Silver, NBA deputy commissioner Mark Tatum, and CEO of NBA Africa Victor Williams.