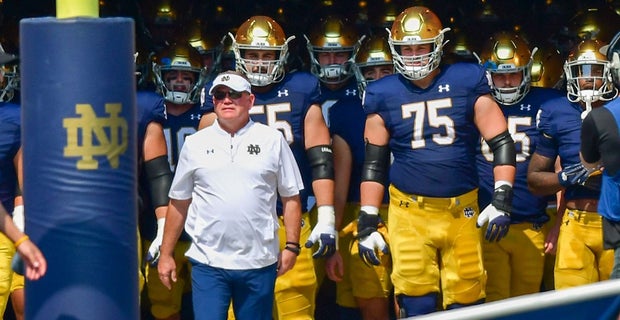 Notre Dame vs Wisconsin Predictions and Pick Against the Spread
The Notre Dame Fighting Irish is one of the most recognizable names in college football. Every week when they take the field, they get the attention of millions of football fans and wise guys that bet on the game. This week the Irish take on the Wisconsin Badgers and it will once again be another marquee game. It's clear that everyone will make Notre Dame vs Wisconsin predictions, but don't let the spread fool you.
Free $50,000 NFL Week 3 Survivor Contest
Enter the free $50,000 NFL Week 3 Survivor Contest! This is a winner-take-all contest with a top prize of $50,000. Join for free and be sure to make your Week 3 pick! Pick your winner, advance, and win! Get your free entry today! [ENTER HERE]
Odds Watch
The college football odds are the first thing that a bettor will look at before placing a bet on the game. One look at this spread and it will seem out of whack. The Irish are ranked at No. 11 in the country and the Badgers are No. 18. Then why is Wisconsin favored by almost a touchdown in this game? Simply put, Wisconsin is the much better team. This line is even more intriguing considering the game is at soldier field.
Notre Dame vs Wisconsin Predictions
The edge in this game is that the Badgers run defense that ranks No. 1 in the country. This aggressive front will slow down the Irish and eventually force Notre Dame into a one-dimensional passing offense, scrambling to catch up. This is the perfect plan for Wisconsin who can control the clock with a rushing offense that put up over 350 yards on the ground last game.
The Irish may be tempting as an underdog but beware. The Irish are 0-5 against the spread in the last five games as an underdog and they lost four of those games by at least 17 points. On the other hand, the Badgers are 6-1 ATS in the last 7 non-conference games and 15-6 ATS after a bye week.
The Badgers will dominate the trenches on both sides of the ball and own the time of possession. The end result will be a big blowout by the Badgers.