 2022 Bills schedule and win totals
The Buffalo Bills are the best team in the National Football League. At least that is what the oddsmakers think. The Bills are the favorites to win the Super Bowl this season and if they want to be the best they will have to beat the best. The matchups are all set for that to happen according to the 2022 Bills schedule.
Get your NFL early bird betting bonus! 
Check out the NFL odds for Week 1 and the win totals for every team and you will be rewarded with up to a $1,000 bonus! Claim your bonus and boost your bank for the upcoming NFL season! GET YOUR BONUS!
2022 Bills schedule
Buffalo's schedule this season includes matchups with the AFC and NFC North and a handful of primetime games. As well as the regular meetings with the New England Patriots and the rest of the AFC East.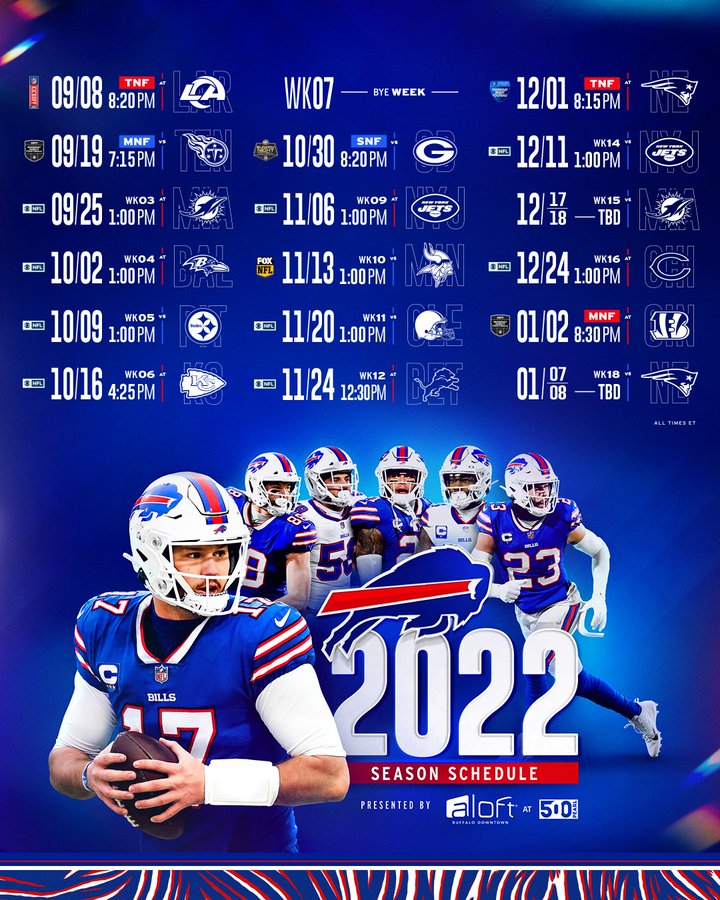 Schedule review
The road to the Super Bowl for Buffalo will not be easy. They kick the season off with a road game against the defending champion LA Rams. The NFL highway gauntlet of tough road games continues with matchups at Kansas City, Baltimore, and Cincinnati. The Bills will end the season with 2 out of 3 games on the road, which may make things difficult if they are trying to go over the win total for the season.
2022 Bills win totals
The Bill's win total is over/under 11.5 wins. That number is the same as the Tampa Bay Buccaneers. But the Rams, Chiefs, and Packers are one game below Buffalo. This means that according to Vegas,  Buffalo is the best team in the NFL. However, that will put a target on their back and every team will be looking to take down the Bills this year.