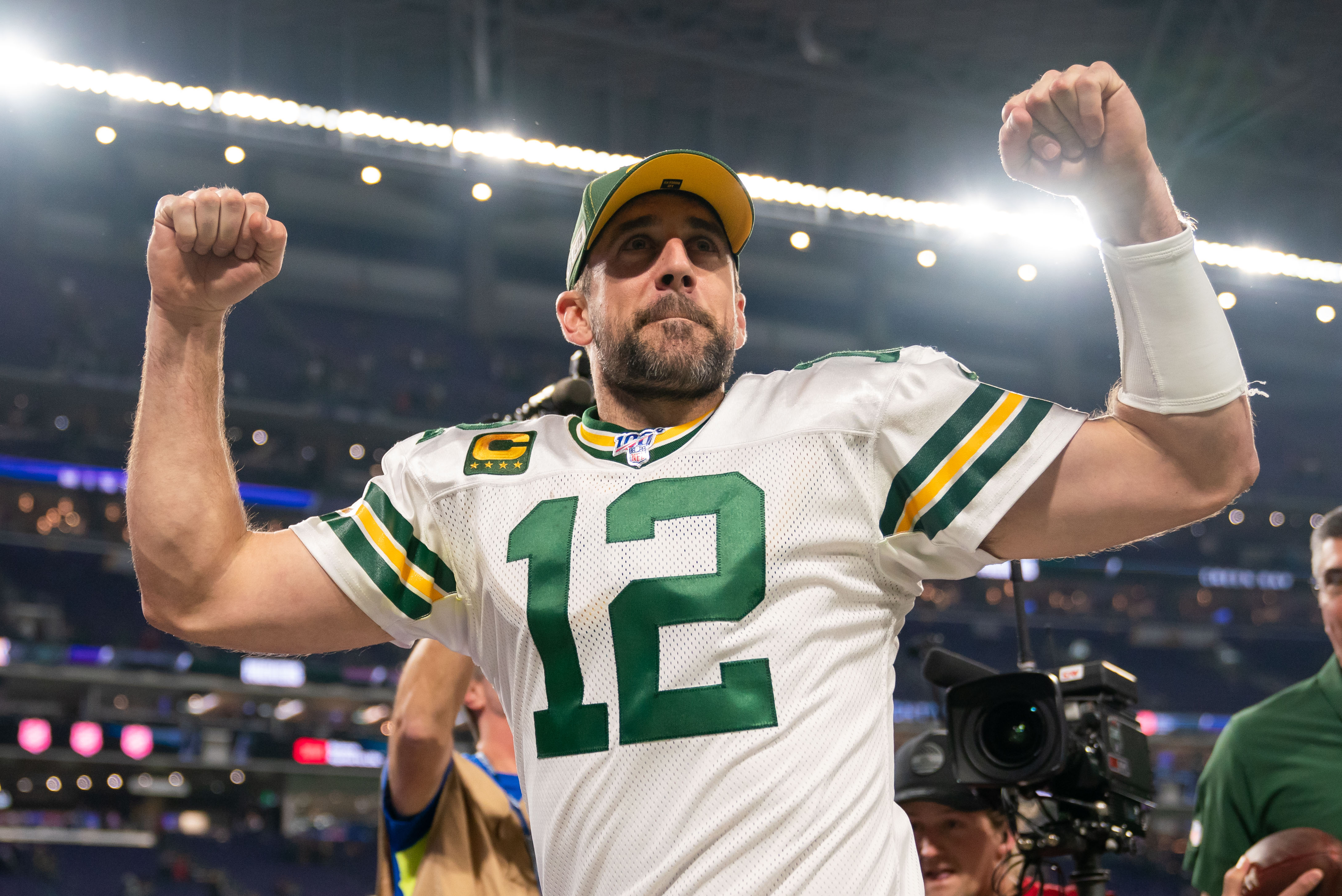 Aaron Rodgers Trade Rumors, Odds and Updates
Aaron Rodgers and the Green Bay Packers are not getting along. This relationship has been on the rocks for over a year. Although the Packers want Rodgers to stay in Green Bay, after an eye-opening interview with Kenny Mayne, it is clear that Rodgers is ready to leave. The Aaron Rodgers trade rumors seem to pop up every day and the latest odds are changing with every rumor that is released. But both sides seem to be at a standstill. Now is the most important time to watch the news and rumors. 
Aaron Rodgers Trade Rumors and Updates
We will be tracking the trade updates and rumors as they develop. This includes updating the latest sport betting odds to see what team is gaining momentum in the market and emerging as the favorite to trade with the Packers. Check back for regular updates.
June 24th: Ready for a Rodgers Retirement?
Every day there is an Aaron Rodgers update, but the latest information is getting serious attention. Will Rodgers retire? reports suggest that he may walk away for a year.
Bill Huber of SI.com is reporting multiple sportsbooks believe Aaron Rodgers will announce his retirement before Wednesday's first practice of training camp. Here's more detail.
From the article by Huber: "Las Vegas sportsbooks are preparing for Aaron Rodgers to retire and not return to the Green Bay Packers.

"Because of the importance of the reigning NFL MVP, Westgate SuperBook recently closed all its NFC North markets, including projected wins, playoff odds, divisional odds and weekly lines for the four division teams, one oddsmaker at the sportsbook said via a Twitter direct message.

"Two other sportsbooks contacted after that initial message said the expectation is Rodgers is going to announce his retirement sometime before the first practice on Wednesday. In response, one of those sportsbooks pushed out its prices on the Packers to win the NFC North and shortened the odds for the other teams. It also shortened the odds of Patrick Mahomes winning NFL MVP.
This is a potential move for Rodgers, who could sit out a year, unretire, and then come back as a free agent. This will allow him to potentially pick where he will go and he may bring others with him, like Davonte Adams.
Aaron Rodgers and Davante Adams have the same Instagram story up right now. pic.twitter.com/hDLE02V7fk

— Matt Schneidman (@mattschneidman) July 24, 2021
However, there is one sportsbook that still has odds on where Aaron Rodgers will play next season and if he will retire. So if you want to bet on it there is still time. Bet on it here.
June 15th: Murphy Mouthing Off
The Aaron Rodgers drama continues as the Packers are making headlines for all of the wrong reasons. It starts with Packers President Mark Murphy, who continues to talk about Rodgers.
Packers President Mark Murphy calls Aaron Rodgers a "complicated fella." https://t.co/vosq5yFTh8

— Field Yates (@FieldYates) June 12, 2021
This type of standoff points to an ending to an already rocky relationship.
Here is the latest odds on where Rodgers may be playing next season. 
June 8th: Rodgers Missing Minicamp
As reported by just abo0ut everyone Aaron Rodgers is a no-show at minicamp. The ownership realizes that this is not a make-or-break moment because they can still adjust his fines if he shows up. However, it is just another black eye for the ownership of the Packers.
Aaron Rodgers wasn't with the Green Bay Packers for their first mandatory minicamp session. https://t.co/LFsfUryq2M

— ABC21 WPTA News (@ABC21WPTA) June 8, 2021
But it still sends a message and proves that the stalemate between ownership and Rodgers is not changing anytime soon. There is a chance that he can be traded, but it depends on management. Here is the last snapshot of the betting odds and the one team that was favored. The Packers management has a decision to make.
The sportsbooks are tracking the Aaron Rodgers rumors and news very closely. Here is the latest odds on where Rodgers may be playing next season. 
Washington Football Team (+3700)
Betting on the Broncos
Ever since the rift between Rodgers and the Packers went public, the Broncos were the favorites to make a move. John Elway loves big-named quarterbacks and he had a similar approach when he brought in Peyton Manning near the end of his career. Further adding fuel to this fire is the fact that the Broncos odds jumped from (+220) to (+140) after the interview.
No to the NFC?
This all depends on the Packers and Aaron Rodgers. The Packers want to ship him to the AFC, but the 49ers and the Saints are still potential landing spots. This can change if either of these teams ups the offer to the Packers and makes it impossible to turn down. And don't overlook Washington who is in need of a quarterback and has a defense that can allow this team to win right now. 
Backing the Silver and Black
After the Broncos the Las Vegas Raiders are next up on the odds board. Although that may seem like a long shot to many, do not count out Jon Gruden who loves to get a big named quarterback. And the rumors and the fans won't stop.
The #Packers are not happy with Aaron Rodgers not showing up and have been taking calls to trade him per @NBCSports #GoPackGo #Broncos #Raiders #NFLRumors

— NFL Rumors (@nflrumss) May 24, 2021
POLL: Should the #Raiders trade for Julio Jones if it means they have to…

1. Give up a 2nd-round pick AND
2. Extend Derek Carr to create cap room

— Raiders Beat (@RaidersBeat) May 25, 2021
The Raiders are true contenders to make a move for both Aaron Rodgers and Julio Jones. They like to make a splash and with the first full year in Las Vegas they are looking for superstars. Don't count out the silver and black just yet.
Where is Aaron Rodgers playing next season? 
Make your pick
Bet on Anything. Anywhere. Anytime. 
First deposit bonus up to $1000 + 10 Casino Chip
Place Bets on Aaron Rodgers Here