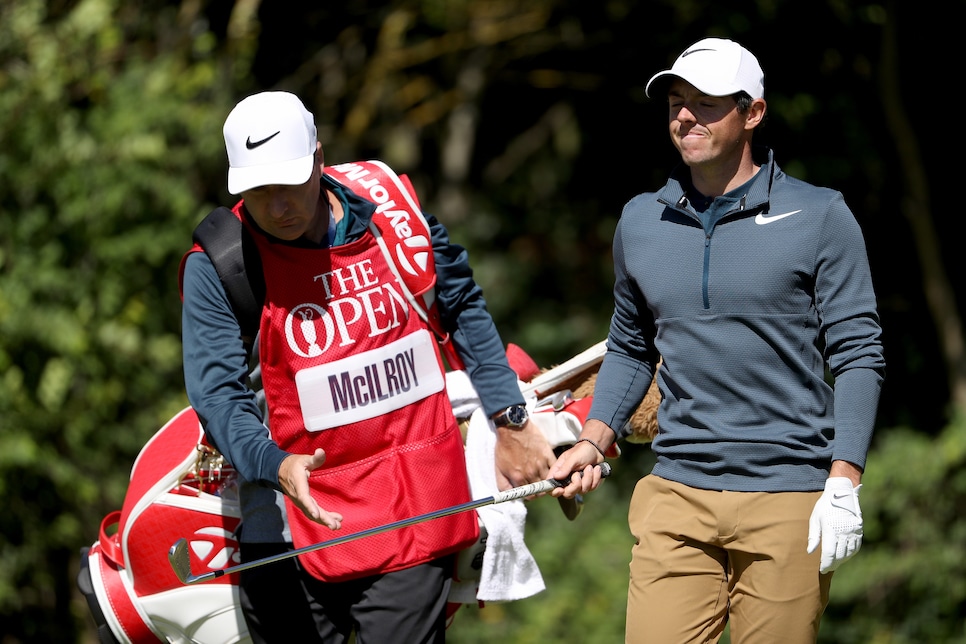 Strict COVID Protocols Waiting for British Open Players
Whether vaccinated or not, if you live in the United Kingdom, you won't see the final easing of COVID restrictions until July 19. If you live in the United States and are traveling to the U.K., you are required to take a COVID test before departure and then pre-pay for COVID tests that will be taken on Day 2 and Day 8 of a 10-day quarantine once you've arrived.
If you are golfing in the Open Championship, which begins on July 15, you don't have to officially quarantine. However, players will not be permitted to visit pubs, restaurants, and grocery stores or share accommodations, which is quite common for a week-long trip overseas. In fact, it's that last restriction that might be most burdensome since many players are now scrambling to find accommodations.
Players, caddies, and the two allowed support personnel will be tested for COVID regularly and must maintain strict contract regulations. One family member may accompany them to the Open Championship. But that family member must follow the full 10-day U.K. quarantining guidelines.
The R&A, which runs the tournament, says that anyone who mixes with someone outside their inner bubble can be disqualified from the tournament. Anyone who is found to be near a person who tests positive, even if they themselves don't test positive, can be disqualified.
Players are Not Happy with Restrictions
While PGA Tour members have enjoyed the reopening of venues in the United States and the easing of restrictions at tournaments, what they are facing for the British Open will be a shock to the system.
"I seriously thought about not going," said one anonymous golfer. "I just can't believe with the numerous examples of successfully run, safely held tournaments and majors here that they can't figure out a better situation."
Adding to the frustration of the players is that while they will essentially be on monitored quarantine for the duration of their stay in the U.K., the R&A is allowing fans to attend the tournament each day.
"There are going to be 32,000 fans allowed in every day, and they're saying we can't stay in anything other than the dedicated hotels – most of which are already sold out – because we'd be mixing with the public," said instructor Pete Cowen. "We have all been vaccinated and will be tested before we're allowed in. This 'bubble' we have created between ourselves has produced no problems at all."
Back to the anonymous player who has expressed the frustrations of all players: "It's aggravating that they deem the tournament safe enough for 32,000 fans a day to attend but won't let a player's wife or children travel and watch the tournament, nor will they even let players visit a restaurant without the threat of disqualification."
The Open Championship will end on July 18, one day before what has been dubbed "Freedom Day" in the U.K. Jon Rahm leads the tournament futures golf odds board at +1000, followed by Rory McIlroy and Dustin Johnson at +1200 odds.
Olympic Golf Teams Almost Set
The U.S. Open marked the end of qualifying for the Olympic golf tournament, but it hasn't quite hammered out which players will be competing and which players won't. Qualified, but choosing to skip the competition, are Dustin Johnson (USA), Sergio Garcia (Spain), Tyrrell Hatton (Great Britain), and Louis Oosthuizen (South Africa).
The men's Olympic competition begins on July 29 and ends on August 1. For the women, it goes from August 4 to August 8. The Ryder Cup isn't until the end of September, so that's not a conflict. But qualifying for the Ryder Cup is, as summed up by Garcia when he made his announcement.
"My number one sporting priority is the Ryder Cup at this moment. Everyone knows what the Ryder Cup means to me. My number one priority is to qualify for the European Team by my own merit and not have to wait for a possible invitation. If I had already qualified for the Ryder Cup, I would play the Olympic Games."
The four golfers representing Team USA are Justin Thomas, Collin Morikawa, Xander Schauffele, and Bryson DeChambeau.
Other top golfers in the 60-man field are Rory McIlroy (Ireland), Viktor Hovland (Norway), Hideki Matsuyama (Japan), Paul Casey (Great Britain), and Shane Lowry (Ireland).