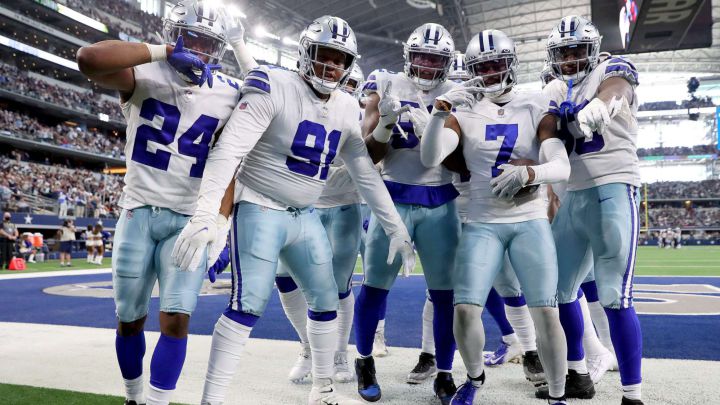 Dallas Cowboys vs. Kansas City Chiefs Matchup Preview (11/21/2021)
By Max Heering
I hate to say it, folks, but the Kansas City Chiefs are back. They had a slow start but returned to form last week against the Las Vegas Raiders. When you really think about it, quarterback Patrick Mahomes returned to form last week. He threw for 406 yards and five touchdowns. Mahomes sprayed the ball around the field, hitting eight different targets. Travis Kelce, Darrell Williams, Tyreek Hill, and Byron Pringle were his favorite targets. They combined for 28 receptions for 349 yards. The most surprising part of the game is that Patrick Mahomes, a prolific runner, did not rush once in their 41-14 win.
Thanksgiving NFL Betting Bonus
7 DAYS. 7,000 WINNERS. $70,000 IN PRIZES. Celebrate Thanksgiving With Seven Straight Days of Free Blackjack and football bonuses! Sign up here! 
The Dallas Cowboys are really good this year and easily the best team in the NFC East. After a tough 30-16 loss two weeks ago to the Denver Broncos, they rebounded in a huge way. They beat the Atlanta Falcons 43-3 with a balanced attack. Dak Prescott was efficient, completing 24/31 passes for 296 yards and two touchdowns (both to CeeDee Lamb). Ezekiel Elliot only rushed for 2.9 yards per carry, but found the end zone twice. The Cowboy's defense also had a great game with three interceptions. They only allowed the Falcons to get 214 total yards.
Cowboys vs. Chiefs Predictions
These are two excellent teams, but I do not think the Chiefs can be stopped now. The Chiefs are also playing at home, and that gives them a huge advantage. I really do not like the Chiefs, so it makes me sad to say this, but they're back. Bet on the Chiefs.