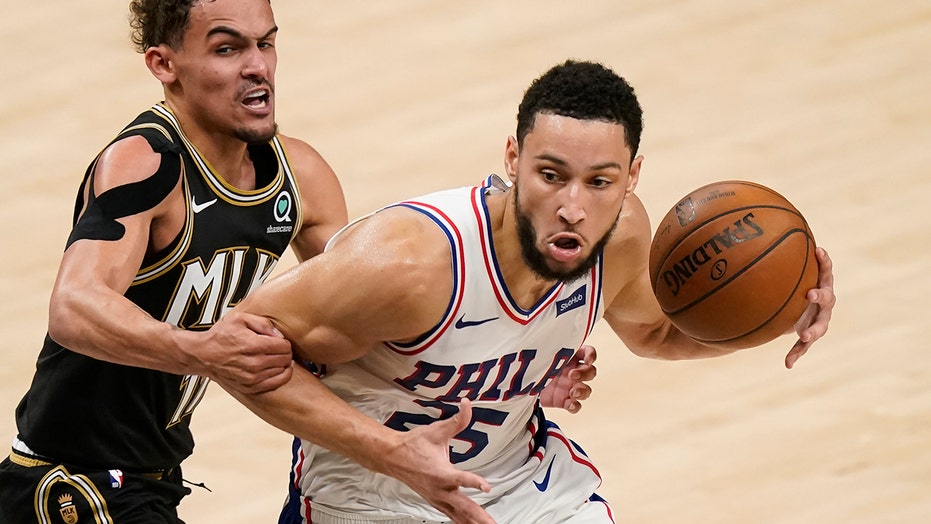 Odds on the 76ers Making a Ben Simmons Trade
The NBA playoffs are not over yet, but after a demoralizing loss for the Philadelphia 76ers, they are already thinking about next season. After losing to the Atlanta Hawks in an embarrassing fashion, the Sixers realize they have to make a change. Most NBA fans are focusing on what teams will win this year, but fans in Philadelphia are looking at potential Ben Simmons trade destinations.
Ben Simmons Watch 7/29 *Draft Night*
The Sixers are ready to move Ben Simmons and draft night seems like the perfect night. We are posting all of our free draft props here (@bookie_blitz), and it looks like it will be a busy night.
I hope #NBATwitter is ready to blow up! The 2021 NBA draft is tonight and I am going to spend the next few hours giving out free props! #NBADraft

1. OVER 6.5 Trades tonight (-130)

Bet it here: https://t.co/KcNXEXlzog pic.twitter.com/1r3hMg5dSu

— Bookie Blitz (@bookie_blitz) July 29, 2021
Ben Simmons Watch 7/28
The Sixers are going to trade Ben Simons and the betting odds confirm it. But the Sixers asked for what??? It is very clear that the Sixers are shopping Ben Simmons and evidently, the price tag is out of this world.
ESPN Sources: Sixers continue to canvass the league for Ben Simmons trades — armed with a steep asking price. Simmons and his agent, Klutch CEO Rich Paul, are in step with a move elsewhere. Draft night is always an ideal vehicle for a deal, but talks could continue into summer.

— Adrian Wojnarowski (@wojespn) July 28, 2021
They asking way too much. How much you ask? look at this report involving the Spurs who were involved in trade talks with Philadelphia.
The Philadelphia 76ers wanted four first-round draft picks, three pick swaps, and a young player from the Spurs in exchange for Ben Simmons, per @KevinOConnorNBA

(h/t @JeffGSpursZone | @ProCityHoops ) pic.twitter.com/GmH2tmiHFT

— NBA Central (@TheNBACentral) July 28, 2021
So who is the favorite to land Simmons? The NBA betting odds say the Heat, Spurs, and the Kings. The Sixers want to get it done on draft night.
Source: The Sixers hope to trade Ben Simmons tonight. The asking price remains the same. The relationship seems to be over. It's not a matter of if anymore, but when.

— Jason Dumas (@JDumasReports) July 29, 2021
Ben Simmons Watch 7/18
The Ben Simons watch is getting quiet, but the rumor mill is always moving. It gets more interesting when you read all about the other disgruntled players in the NBA, like Damian Lillard, Kemba Walker, and Bradley Beal, just to name a few. Here is a good breakdown.
From @YossiGozlan: The trade market for Ben Simmons right now.https://t.co/G5f2UmI2O9

— HoopsHype (@hoopshype) July 18, 2021
The Ben Simmons betting odds are always changing so if you want a true idea of where he may play next season, you may want to follow along. 
Ben Simmons Watch 7/14
With all of the buzz surrounding Ben Simmons yesterday, you may have believed there would be more noise today. But the opposite has happened. Teams are backing out or at least taking superstars off the table.
One down… https://t.co/TB058Z3Jw4

— Mike Missanelli (@MikeMiss25) July 14, 2021
This is not a surprise as the 76ers have to deal with the lowball deals since Simmons went out so poorly to end the year. The odds still point to other teams (see below) to get the deal done.
Ben Simmons Watch 7/13
It is clear now that the Sixers are trading Ben Simmons. Now they have to play the game and make it look like they are not going to give him away.
Sources: The Philadelphia 76ers have opened up trade conversations surrounding three-time All-Star Ben Simmons and have engaged with teams.

Full details and more on Inside Pass at @TheAthletic: https://t.co/sdjV49uw3h

— Shams Charania (@ShamsCharania) July 13, 2021
The Sixers are looking for an All-Stra caliber player in return. With so many disgruntled superstars on different teams and the belief that Simmons can be "fixed". This trade will happen. According to the odds at BetUS the Spurs and the Bulls are the favorites to trade for Simmons, but teams like Dallas and Portland are in the running.
Where will Ben Simmons play next Year? Guess and if you are right you can win! Make your prediction! 
Ben Simmons Watch 7/2
The Sixers have officially announced that they are working with Ben Simmons on his game and do not want to trade him. That will not stop other teams from trying.
76ers reportedly rejected a trade of Pacers' Malcolm Brogdon and first-rounder for Ben Simmons, per @JDumasReports pic.twitter.com/TcUMr9fGjv

— Bleacher Report (@BleacherReport) July 2, 2021
Simmons will be traded, despite his poor post-season performance. This is a good offer, but the Sixers most likely declined because they know they may have better offers.
The Sixers have already fielded offers for Ben Simmons but continue to hold a stance that they will only trade him for an all-star caliber player. They most recently turned down a deal with the Pacers that included Malcolm Brogdon and a 1st round pick.

— Jason Dumas (@JDumasReports) July 2, 2021
The 76ers odds on trading Simmons are very good, but where he may go is another question. The Pacers are on the big board as contenders, but teams like the Spurs and the Bulls still have the best chance. If you believe these odds.
Will the Sixers Make a Deal?
Trading Simmons seems to be an inevitable conclusion for this team. In-game seven Simmons had just five points, passed on an open layup, and set records for poor free-throw shooting.
Ben Simmons did not just pass this up… pic.twitter.com/4JyM7ZHNkJ

— Bleacher Report (@BleacherReport) June 21, 2021
He did own up for his poor performance, but the relationship is all but dead. If the odds are correct the Simmons trade will happen.
It did not take long for basketball-betting sports outlets to post odds on where Ben Simmons may play next year if the Sixers decide to trade him.
According to the odds at BETUS, the San Antonio Spurs are the front runners to land Simmons in a deal. The Utah Jazz and the Chicago Bulls are next on the list. However, if you plan on betting on this deal, look at other sportsbooks, because some have the Portland Trailblazers as the favorite to get Simmons from the Sixers.
The odds pushing for Simmons to go to Portland may be inspired by comments made by Stephen A. Smith.
"[The 76ers should] try to get yourself somebody like CJ McCollum. Bring him to Philly, send Ben Simmons to Portland," Smith said during Monday's edition of First Take.
Rumors Running Rampant
Everyone is chiming in on Simmons and where he will play next season. Fans are firing up the trade machine and the results are hilarious.
Send me your best (and worst) Ben Simmons trades. NBA trade machine links and/or pics preferred, but, hey, feel free to break down your reasoning. I smell a pod. pic.twitter.com/dPWU9cyJ0r

— J.E. Skeets (@jeskeets) June 21, 2021
NBA executives are adding fuel to the rumor mill fire by chiming in with chemistry issues with Embiid and comparisons.
"He's not the perfect fit with Embiid," the second NBA executive told HoopsHype. "Other players could complement Embiid better. Simmons is difficult to build a team around and is not good enough to be the central figure. I think the lack of free-throw shooting does hurt his value. I'd explore a trade. Guys like Damian Lillard and Bradley Beal are two levels better than Simmons."
This story is going to be interesting to watch as the NBA season heads into the offseason. The Sixers may be selling cheap and there will be many teams interested in acquiring Simmons for the right price. This can change the "process" for Philadelphia. There is one thing that is almost guaranteed, Simmons will not be on the Sixers next year.