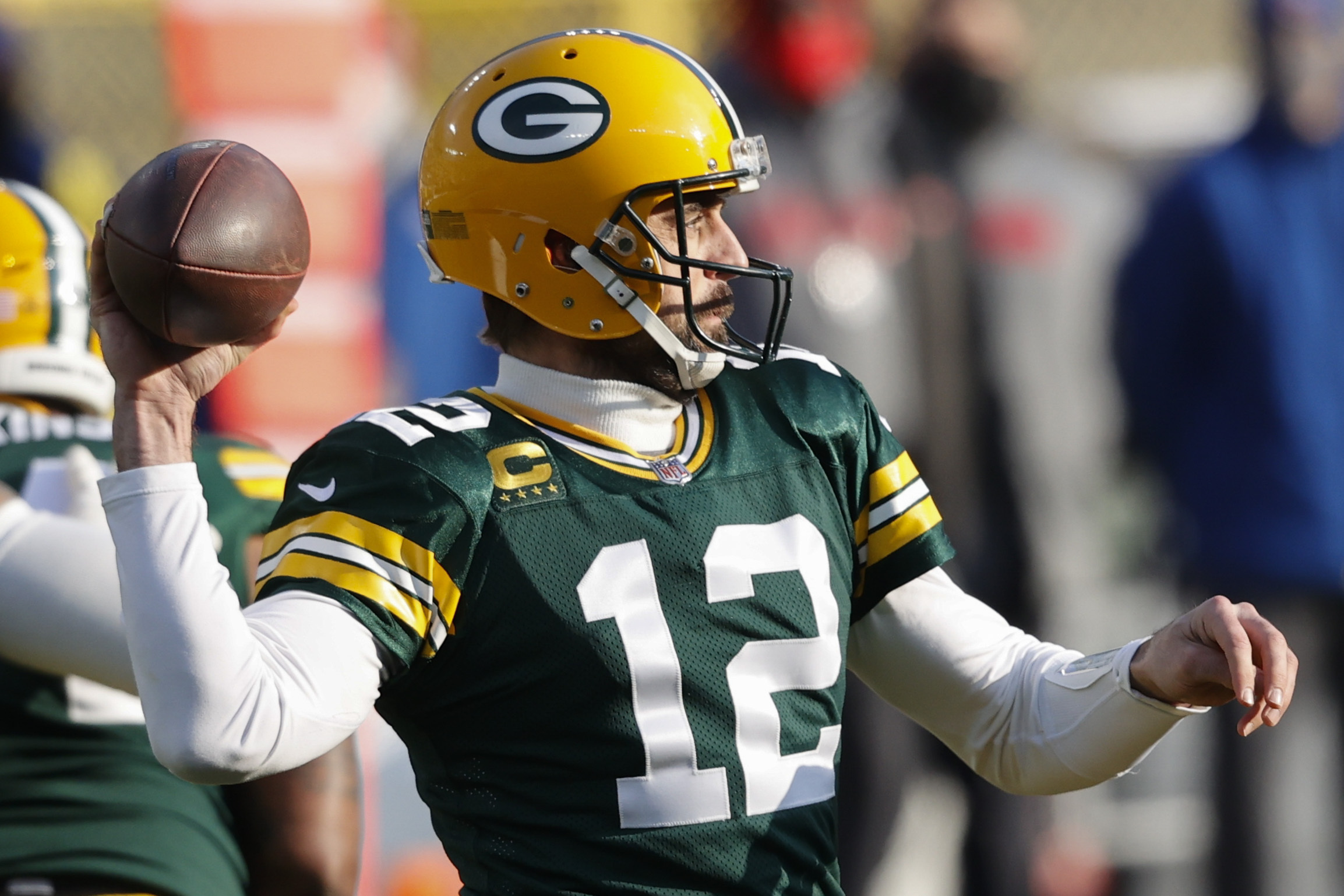 Aaron Rodgers Interview: Reading Between the Lines
For the last few weeks all of the NFL attention has been on Julio Jones, but that changed yesterday. Green Bay Packers quarterback Aaron Rodgers appeared on SportsCenter to have one last conversation with Kenny Mayne, who is leaving ESPN. Of course, Mayne questioned Rodgers on his current situation in Green Bay and Rodgers did not disappoint. Rodgers kept it cordial, but it allows for some interpretation. The Aaron Rodgers interview is all anyone is talking about and for good reason. The odds say Rodgers will be traded and the rumors are flying. We decided to decipher the conversation and read between the lines.
Aaron Rodgers Interview: Breaking it Down
It's not about Jordan
Rodgers attempted to clear things up about the infamous draft pick of quarterback Jordan Love.
"With my situation, look it's never been about the draft pick, picking Jordan," Rodgers told Mayne. "I love Jordan; he's a great kid. [We've had] a lot of fun to work together. Love the coaching staff, love my teammates, love the fan base in Green Bay.
Read between the lines
Rodgers basically spewed nothing but positiveness and love for everyone in the organization. But its the omission that stood out. That one person is general manager Brian Gutekunst. It is rumored that Rodgers wants Gutekunst fired if he is going to stay in Green Bay. This rift is very public and Rodgers has shared his opinion with teammates.
Plans Ruined
Rodgers reflects on last season and how he performed. Insinuating what it means for his future.
"A lot of this was put in motion last year, and the wrench was just kind of thrown into it when I won MVP and played the way I played last year," Rodgers said.
Read between the lines
It is clear that Rodgers believes the Packers were giving him one more season before parting ways. He was obviously driven to play well and by winning the MVP he sent a clear message to the Packers that he is not done and they have made a huge mistake.
Covering his Tracks
Rodgers, in a roundabout way addressed the fans and it made it clear that the people are the most important thing.
"But it is about the people, and that's the most important thing. Green Bay has always been about the people."
Read Between the Lines
Rodgers is making a PR move. It is clear he wants out of Green Bay and he is not letting up on the front office. By saying this he wants the fans to know that they are important. This is attempt to let the fans know that he did not cause this rift and he cares about them. But let's face it, that's not the case.
Leaving a Legacy
Rodgers mentioned many faces names in Green Bay history in his interview.
Curly Lambeau being owner and founder to the '60s with [Vince] Lombardi and Bart Starr and all those incredible names to the '90s teams with coach [Mike] Holmgren and Favrey [Brett Favre] and the Minister of Defense [Reggie White] to the run that we've been on. It's about the people."
Read Between the Lines
Rodgers is really concerned with his legacy. He considers himself as the face of the franchise.He wants to be on the Mount Rushmore of the Packers history books. This is a deserving moniker, but he ended it with once again referencing "the people" making sure although he wants to be remembered as one of the best, the fans are the most important.
Saying Goodbye
Rodgers reflects numerous times in the interview on his time in Green Bay.
"I've been fortunate enough to play with a number of amazing, amazing people and got to work for some amazing people as well. It's those people that build the foundation of those entities. I think sometimes we forget that."
Read Between the Lines
This is a clear farewell and he is thanking the many great people that he played with. He mentions the people he played with (players) and played for (front office) but ends it with the statement that somewhere along the way, the front office forgot what was important to Rodgers.
The Bottom Line
Rodgers is one of the best quarterbacks to ever play the game, but he is also stubborn. He is driven by disdain more than anything and has used this to motivate his career, every step of the way. Now he is using that energy to force Green Bay to trade him and that is exactly what he will get.
Want to bet on where Aaron Rodgers will play next?
Bet on Anything. Anywhere. Anytime. 
First deposit bonus up to $1000 + 10 Casino Chip