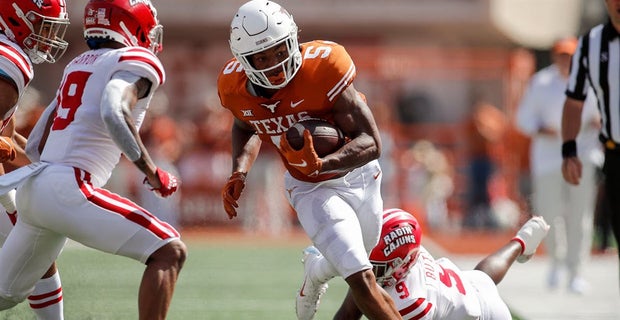 College Football 2021 Week 2 Lines
This week may belong to the NFL and the kickoff game between the Dallas Cowboys and the Tampa Bay Buccaneers, but don't forget about college football. With one full week in the books, the second week of the schedule is loaded with great games and must-see matchups. It is time to take a look at the betting lines for week two along with the schedule, dates, and locations. Take advantage of our five college betting bonuses for this big week of football!
The Friday night slate features five games that will get the national television treatment to get the college football fan ready for the weekend. The biggest college football line for Friday belongs to Boise State who is a 26.5 point favorite.
Kansas at No. 22 Coastal Carolina
Game info: Fri., Sept. 10 | 7:30 p.m. | ESPN2
Location: Brooks Stadium | Conway, S.C.
Point spread: Coastal Carolina -26
North Carolina A&T at Duke
Game info: Fri., Sept. 10 | 8 p.m. | ACC Network
Location: Wallace Wade Stadium | Durham, N.C.
Point spread: TBD
North Dakota at Utah State
Game info: Fri., Sept. 10 | 9 p.m. | CBS Sports Network
Location: Maverik Stadium | Logan, Utah
Point spread: TBD
UTEP at Boise State
Game info: Fri., Sept. 10 | 9:30 p.m. | FS1
Location: Albertsons Stadium | Boise, Idaho
Point spread: Boise State -26.5
Saturday College Football Schedule
College Football Betting Bonus #1: If you are going to bet on college football this weekend get a bonus matchup of $1,000 when you use promo code 'BLITZ'. Sign up using this link and get your money today!
Illinois at Virginia
Game info: Sat., Sept. 11 | 11 a.m. | ACC Network
Location: Scott Stadium | Charlottesville, Va.
Point spread: Virginia -11
Western Kentucky at Army
Game info: Sat., Sept. 11 | 11:30 a.m. | CBS Sports Network
Location: Michie Stadium | West Point, N.Y.
Point spread: Army -5.5
VMI at Kent State
Game info: Sat., Sept. 11 | 11:30 a.m. | ESPN3
Location: Dix Stadium | Kent, Ohio
Point spread: TBD
No. 11 Oregon at No. 4 Ohio State
Game info: Sat., Sept. 11 | Noon | FOX
Location: Ohio Stadium | Columbus, Ohio
Point spread: Ohio State -14
Game info: Sat., Sept. 11 | Noon | SEC Network
Location: Jordan-Hare Stadium | Auburn, Ala.
Point spread: TBD
South Carolina at East Carolina
Game info: Sat., Sept. 11 | Noon | ESPN2
Location: Dowdy-Ficklen Stadium | Greenville, N.C.
Point spread: East Carolina -4
Pittsburgh at Tennessee
Game info: Sat., Sept. 11 | Noon | ESPN
Location: Neyland Stadium | Knoxville, Tenn.
Point spread: Pittsburgh -1.5
Kennesaw State at Georgia Tech
Game info: Sat., Sept. 11 | Noon | ESPN3
Location: Bobby Dodd Stadium | Atlanta, Ga.
Point spread: TBD
Norfolk State at Wake Forest
Game info: Sat., Sept. 11 | Noon | ACC Network Extra
Location: Trust Field | Winston-Salem, N.C.
Point spread: TBD
Tulsa at Oklahoma State
Game info: Sat., Sept. 11 | Noon | FS1
Location: Boone Pickens Stadium | Stillwater, Okla.
Point spread: Oklahoma State -12.5
Youngstown State at Michigan State
Game info: Sat., Sept. 11 | Noon | Big Ten Network
Location: Spartan Stadium | East Lansing, Mich.
Point spread: TBD
Miami (OH) at Minnesota
Game info: Sat., Sept. 11 | Noon | ESPNU
Location: Huntington Bank Stadium | Minneapolis, Minn.
Point spread: Minnesota -20
Indiana State at Northwestern
Game info: Sat., Sept. 11 | Noon | Big Ten Network
Location: Ryan Field | Evanston, Ill.
Point spread: TBD
No. 13 Florida at South Florida
Game info: Sat., Sept. 11 | 1 p.m. | ABC
Location: Raymond James Stadium | Tampa, Fla.
Point spread: Florida -29
Morgan State at Tulane
Game info: Sat., Sept. 11 | 1 p.m. | ESPN+
Location: Legion Field | Birmingham, Ala.
Point spread: TBD
Wyoming at Northern Illinois
Game info: Sat., Sept. 11 | 1:30 p.m. | ESPN+
Location: Huskie Stadium | DeKalb, Ill.
Point spread: Wyoming -4
Middle Tennessee at Virginia Tech
Game info: Sat., Sept. 11 | 2 p.m. | ACC Network Extra
Location: Lane Stadium | Blacksburg, Va.
Point spread: Virginia Tech -19.5
Rutgers at Syracuse
Game info: Sat., Sept. 11 | 2 p.m. | ACC Network
Location: Carrier Dome | Syracuse, N.Y.
Point spread: TBD
Game info: Sat., Sept. 11 | 2 p.m. | ESPN3
Location: Peden Stadium | Athens, Ohio
Point spread: TBD
Toledo at No. 9 Notre Dame
Game info: Sat., Sept. 11 | 2:30 p.m. | Peacock
Location: Notre Dame Stadium | Notre Dame, Ind.
Point spread: Notre Dame -19.5
Purdue at UConn
Game info: Sat., Sept. 11 | 3 p.m. | CBS Sports Network
Location: Pratt & Whitney Stadium | East Hartford, Conn.
Point spread: Purdue -32.5
Robert Morris at Central Michigan
Game info: Sat., Sept. 11 | 3 p.m. | ESPN3
Location: Kelly/Shorts Stadium | Mount Pleasant, Mich.
Point spread: TBD
Game info: Sat., Sept. 11 | 7 p.m. | ESPN
Location: Razorback Stadium | Fayetteville, Ark.
Point spread: Texas -6
Nicholls at No. 23 Louisiana
Game info: Sat., Sept. 11 | 7 p.m. | ESPN+
Location: Cajun Field | Lafayette, La.
Point spread: TBD
NC State at Mississippi State
Game info: Sat., Sept. 11 | 7 p.m. | ESPN2/ESPNU
Location: Davis Wade Stadium | Starkville, Miss.
Point spread: Mississippi State -1
Texas State at Florida International
Game info: Sat., Sept. 11 | 7 p.m. | ESPN+
Location: Riccardo Silva Stadium | Miami, Fla.
Point spread: TBD
SE Louisiana at Louisiana Tech
Game info: Sat., Sept. 11 | 7 p.m. | ESPN3
Location: Joe Aillet Stadium | Ruston, La.
Point spread: TBD
North Texas at SMU
Game info: Sat., Sept. 11 | 7 p.m. | ESPN+
Location: Gerald J. Ford Stadium | Dallas, Texas
Point spread: SMU -21
Hampton at Old Dominion
Game info: Sat., Sept. 11 | 7 p.m. | ESPN3
Location: S.B. Ballard Stadium | Norfolk, Va.
Point spread: TBD
Grambling at Southern Miss
Game info: Sat., Sept. 11 | 7 p.m. | ESPN3
Location: M.M. Roberts Stadium | Hattiesburg, Miss.
Point spread: TBD
Eastern Kentucky at Louisville
Game info: Sat., Sept. 11 | 7 p.m. | ACC Network Extra
Location: Cardinal Stadium | Louisville, Ky.
Point spread: TBD
Liberty at Troy
Game info: Sat., Sept. 11 | 7 p.m. | ESPN+
Location: Veterans Memorial Stadium | Troy, Ala.
Point spread: Liberty -6
Texas Southern at Baylor
Game info: Sat., Sept. 11 | 7 p.m. | ESPN+
Location: McLane Stadium | Waco, Texas
Point spread: TBD
Southern Illinois at Kansas State
Game info: Sat., Sept. 11 | 7 p.m. | ESPN+
Location: Bill Snyder Family Stadium | Manhattan, Kan.
Point spread: TBD
Stephen F. Austin at Texas Tech
Game info: Sat., Sept. 11 | 7 p.m. | ESPN+
Location: Jones AT&T Stadium | Lubbock, Texas
Point spread: TBD
Memphis at Arkansas State
Game info: Sat., Sept. 11 | 7 p.m. | ESPN+
Location: Centennial Bank Stadium | Jonesboro, Ark.
Point spread: Memphis -5
New Mexico State at New Mexico
Game info: Sat., Sept. 11 | 7 p.m. | Stadium
Location: Dreamstyle Stadium | Albuquerque, N.M.
Point spread: New Mexico -19.5
Georgia State at No. 10 North Carolina
Game info: Sat., Sept. 11 | 7:30 p.m. | ESPN3
Location: Kenan Stadium | Chapel Hill, N.C.
Point spread: North Carolina -25
Idaho at No. 17 Indiana
Game info: Sat., Sept. 11 | 7:30 p.m. | Big Ten Network
Location: Memorial Stadium | Bloomington, Ind.
Point spread: TBD
Missouri at Kentucky
Game info: Sat., Sept. 11 | 7:30 p.m. | SEC Network
Location: Kroger Field | Lexington, Ky.
Point spread: Kentucky -5
Austin Peay at Ole Miss
Game info: Sat., Sept. 11 | 7:30 p.m. | SEC Network+/ESPN+
Location: Vaught-Hemingway Stadium | Oxford, Miss.
Point spread: TBD
Game info: Sat., Sept. 11 | 7:30 p.m. | Big Ten Network
Location: Maryland Stadium | College Park, Md.
Point spread: TBD
McNeese at No. 16 LSU
Game info: Sat., Sept. 11 | 8 p.m. | SEC Network+/ESPN+
Location: Tiger Stadium | Baton Rouge, La.
Point spread: TBD
No. 20 Washington at Michigan
Game info: Sat., Sept. 11 | 8 p.m. | ABC
Location: Michigan Stadium | Ann Arbor, Mich.
Point spread: Michigan -5
Jacksonville State at Florida State
Game info: Sat., Sept. 11 | 8 p.m. | ACC Network
Location: Doak Campbell Stadium | Tallahassee, Fla.
Point spread: TBD
Vanderbilt at Colorado State
Game info: Sat., Sept. 11 | 10 p.m. | CBS Sports Network
Location: Canvas Stadium | Fort Collins, Colo.
Point spread: Colorado State -5
San Diego State at Arizona
Game info: Sat., Sept. 11 | 10 p.m. | Pac-12 Network
Location: Arizona Stadium | Tucson, Ariz.
Point spread: Arizona -1
Cal Poly at Fresno State
Game info: Sat., Sept. 11 | 10 p.m. | CW59
Location: Bulldog Stadium | Fresno, Calif.
Point spread: TBD
No. 24 Utah at BYU
Game info: Sat., Sept. 11 | 10:15 p.m. | ESPN
Location: LaVell Edwards Stadium | Provo, Utah
Point spread: Utah -6
Game info: Sat., Sept. 11 | 10:30 p.m. | FOX
Location: Los Angeles Memorial Stadium | Los Angeles, Calif.
Point spread: USC -17
UNLV at No. 25 Arizona State
Game info: Sat., Sept. 11 | 10:30 p.m. | ESPN2
Location: Sun Devil Stadium | Tempe, Ariz.
Point spread: Arizona State -34
Hawaii at Oregon State
Game info: Sat., Sept. 11 | 11 p.m. | FS1
Location: Reser Stadium | Corvallis, Ore.
Point spread: Oregon State -11