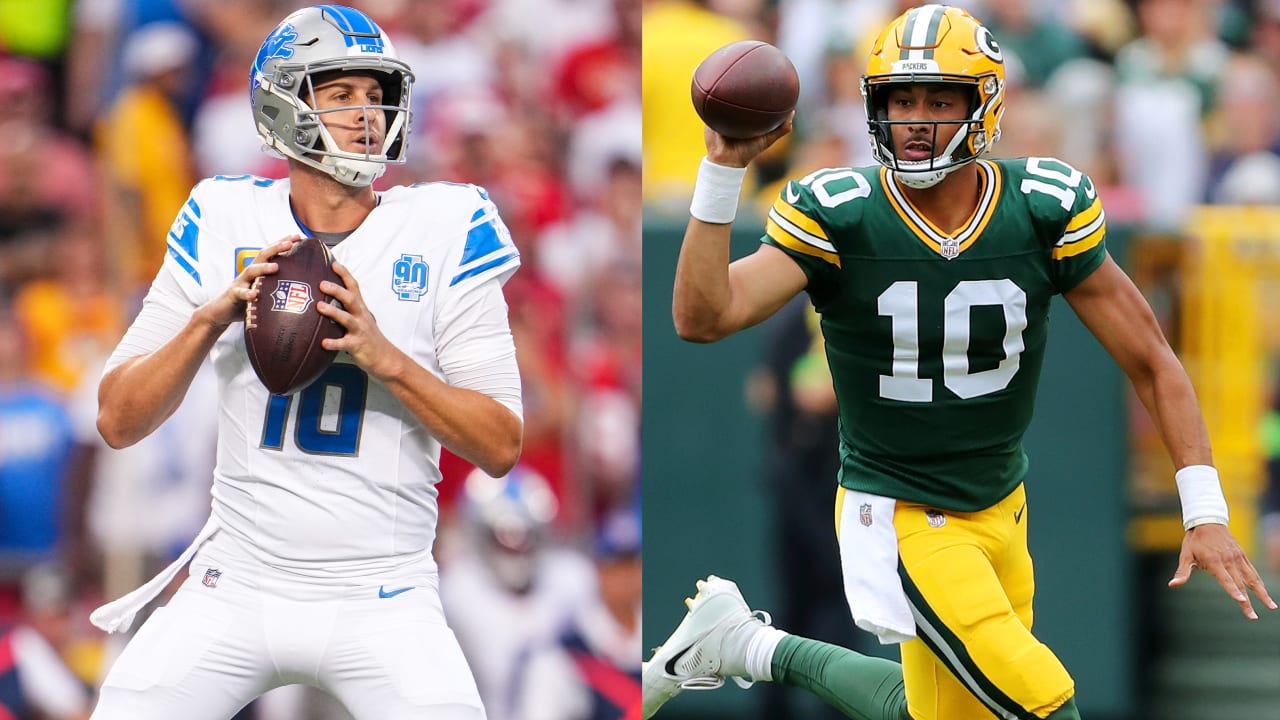 Are you ready for some Thursday night NFL action, packed with more twists than a suspense novel? 🏈✨ The Green Bay Packers are primed to showcase Jordan Love's talents as they face off against the Detroit Lions. It's a clash under the lights that promises excitement, and we've got the scoop on who to bet your money on!
In the Lineup Shuffle
Tonight, the Detroit Lions are bringing out some heavy artillery on offense, with star players David Montgomery and Taylor Decker back in action. 🦁💥 But hold on to your cheese hats, Packers fans, because Green Bay is not holding back either.
The Packers are expected to welcome WR Christian Watson and RB Aaron Jones back into the lineup. Keep an eye on Watson; he might be on a leash, but he's still got bite! 🧀🏈
The Road Warriors vs. The Lambeau Wizards
When it comes to playing away from home, Lions QB Jared Goff seems to have a love-hate relationship. 🏠➡️🚌 He's like that superhero who only saves the day in his own neighborhood, tossing 23 of his 29 touchdown passes at home. On the road, it's a different story, averaging just 246.6 yards per game.
But the Packers? They're looking mighty fine. A top-10 defense and a high-powered offense make them a formidable opponent. With Aaron Jones back in action, expect sparks to fly. Jordan Love might have a reputation for incomplete passes, but that's just because he's aiming for the stars. 🌟🚀
The Winning Wager
At Bookie Blitz, we're all about winners, and this week, we're shooting for the stars. Short weeks are usually tough on road teams, and the Packers are riding high after an incredible comeback win. 🏆💪
They're second in the league with a whopping 78% red-zone conversion rate, meaning they score when it matters most. The Packers don't miss opportunities; they create them. Bet on the Packers to secure the victory at home. 🤑🧀
Ready for thrilling NFL action? Look no further than MyBookie, your ultimate destination for high-stakes NFL betting!
Experience real-time odds, and a user-friendly interface, and immerse yourself in the excitement of live betting on every game.
But here's the kicker! Sign up today and claim a massive $1,000 bonus to supercharge your NFL betting journey. Don't miss out on this incredible opportunity to win big as the gridiron action heats up.
Our Pick: Packers +1.5
There you have it, folks! Get ready for some Thursday night fireworks, and remember, when in doubt, trust the Cheeseheads!