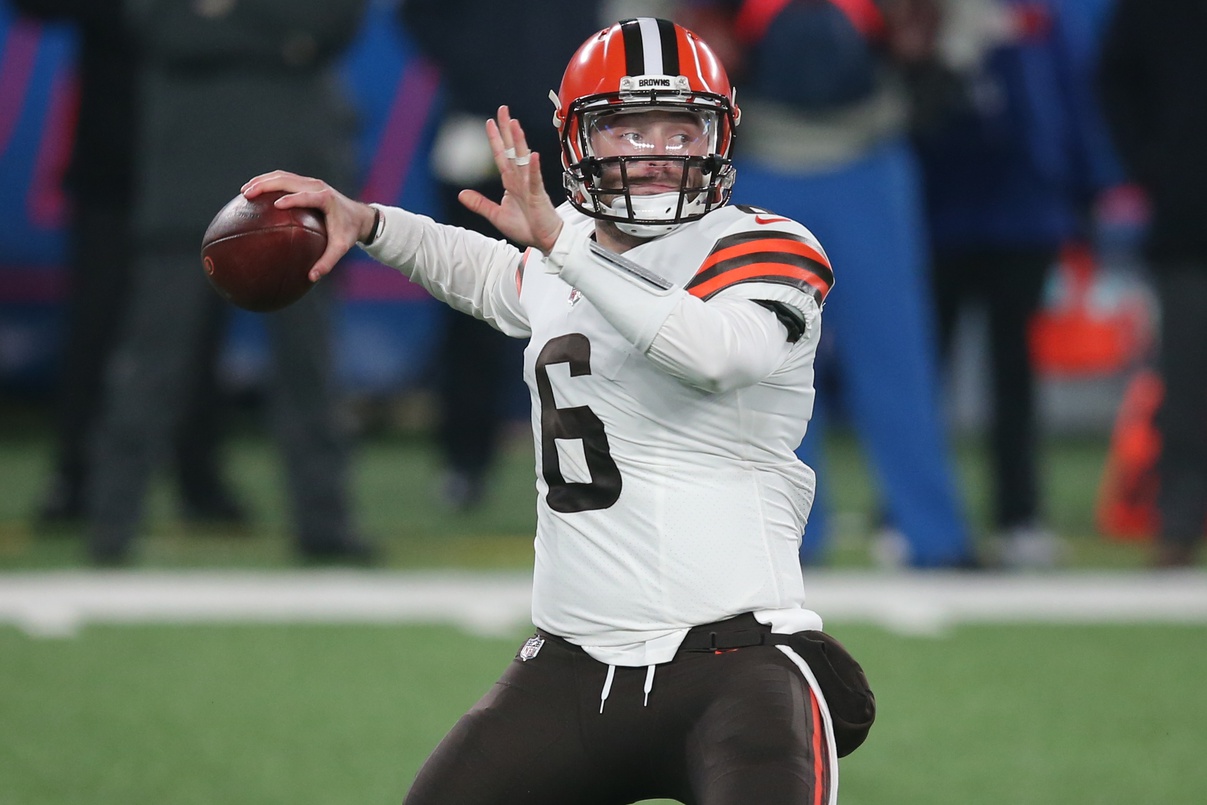 Baker Mayfield Next Team Odds and the NFL Draft
Finally, it is time for the NFL Draft. The teams are poised to make their picks. The players are eager to see where they get selected, but this draft has a twist to it. There are several current players in the NFL that may be part of trade packages on Thursday night. Deebo Samuel and Jimmy Garoppolo may be leaving the 49ers, but one of the most intriguing players is on the Cleveland Browns. The Baker Mayfield next team odds reveal that he will be traded on draft day.
Bet the NFL Draft
One of the more interesting aspects of the NFL draft is the long list of prop bets that can be bet on. It includes a variety of betting options including draft position, quarterback props, and trade props. Bet on the NFL draft now with this $1,000 welcome bonus! Sign up here for free and get ready to bet on the draft!
Baker a Bad Move to Carolina
The Carolina Panthers are connected to Baker Mayfield, but this is a bad move for Carolina. The reasons are endless for why Baker should not go to Carolina. The Panthers are better off working a deal for Jimmy G. Or trading the sixth pick for a bounty of players or drafting Kenny Pickett as many mock drafts suggest.
Baker Mayfield Odds
Here is the complete list of odds per Bovada
The odds are moving as we get closer to draft night, but if you are going to wager on Baker's next team you may want to make that bet now. Seattle is the favorite, but the one team that will make the move for Baker may surprise you.
And the winner is……
Say no to Seattle
Baker made headlines (again) a few days ago when he was labeled as the "steal of the draft". The truth is he will be an asset to a team and it will happen this year. Reports indicate that Seattle is not overly excited about Baker. Of course with the draft that can be all talk.
No possibility in Pittsburgh
Pittsburgh will take Baker, but they are not going to overpay for him. That is exactly what they will have to do if they hope to trade with a division rival. The Browns will not send Baker to Pittsburgh and the Steelers won't pay. It's just not happening.
Relying on the Lion
The perfect landing spot is in Detroit. They already have Jared Goff, they have a bounty of draft picks and they are rebuilding. Mayfield fits perfectly into the mold of this team. Coach Dan Campbell has this team playing hard and Mayfield will provide the matching intensity this team is looking for. The Lions can get Mayfield for cheap and may just land the QB of the future. Welcome to Detroit Baker Mayfield.