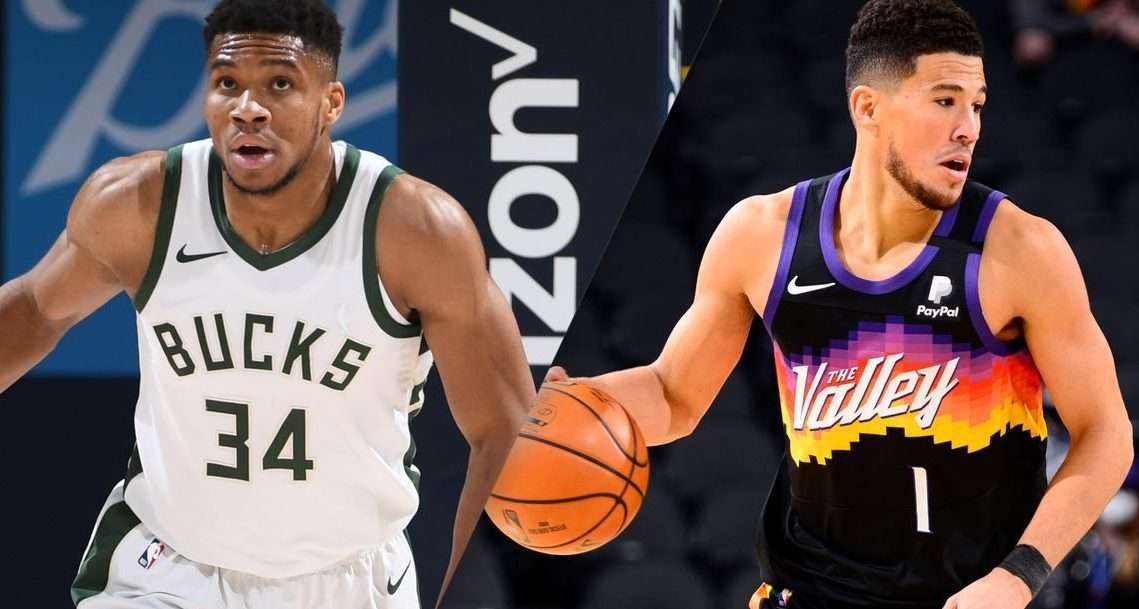 Bucks vs Suns predictions for 2021 NBA Finals
The stage for the 2021 NBA Finals is set. The Milwaukee Bucks and the Phoenix Suns will face off for the right to be called champions. Although both of these teams had different paths to the Finals, they are deserving of the spotlight. Before making Bucks vs Suns predictions for the series, there are multiple things that have to be investigated.
(and a free entry to a $10,000 Blackjack tournament)
2021 NBA Finals Schedule
The Suns are the -170 favorite to win the title, while the Bucks are the +150 underdog. Game 1 is Tuesday, July 6, and here is the rest of the schedule.
2021 NBA FINALS ON ABC
Game 1: Tuesday, July 6 | Milwaukee at Phoenix, 9 ET, ABC (free pick)
Game 2: Thursday, July 8 | Milwaukee at Phoenix, 9 ET, ABC
Game 3: Sunday, July 11 | Phoenix at Milwaukee, 8 ET, ABC
Game 4: Wednesday, July 14 | Phoenix at Milwaukee, 9 ET, ABC
Game 5: Saturday, July 17 | Milwaukee at Phoenix, 9 ET, ABC (if necessary)
Game 6: Tuesday, July 20 | Phoenix at Milwaukee, TBD, ABC (if necessary)
Game 7: Thursday, July 22 | Milwaukee at Phoenix, TBD, ABC (if necessary)
Odds and Trends
Due to injury concerns for Milwaukee and the incredible run that Phoenix made to the Finals, the Suns are the favorite. According to MyBookie they are -170 to win the championship and they are -5.5 point favorites to win the first game. If you are going to bet on the NBA Finals it will be important to track the odds and how they move before and during the season.
Will Giannis Antetokounmpo Play?
This is the biggest question of the NBA Finals. Entering the series, Antetokounmpo is listed as day-to-day. Coach Mike Budenholzer mentioned that Giannis has had some on-court work since his injury and that the Milwaukee Superstar is "dying to be out there".
Giannis Antetokounmpo day-to-day for Bucks heading into NBA Finals https://t.co/BLelnVfxFL

— Kurt Helin (@basketballtalk) July 4, 2021
The Bucks are a much better team with Giannis in the lineup, but it looks as though the Bucks will wait to make a decision.
Bucks vs Suns predictions
Without knowing the status of Giannis, it is difficult to make a prediction, but we have enough evidence to make a pick. The Bucks played valiantly without Giannis in the lineup against Atlanta. In fact, it allowed other role players like Robin Lopez and Bobby Portis to find their groove.
The Sun's storyline will be all about Chris Paul and his trip to this first NBA Finals. Devin Booker and Deandre Ayton lead a talented young roster that will back him up and make this a very exciting series that will go back and forth.
Paul and the Suns will use the pick and roll to open up mismatches for the Hall of Famer point guard, but the Bucks have seen this before. Both games during the regular season were close ones with Phoenix winning both games by a combined two points.
Giannis will return to the lineup when needed, but this Bucks team is focused. Whether it is Khris Middleton or Jrue Holiday they are getting a maximum effort from every player. This effort and teamwork will win a championship over a younger Suns squad.
Bucks vs Suns predictions: Bucks in 6
(and bet $10 in the casino to get a $10 free bet on UFC 264)