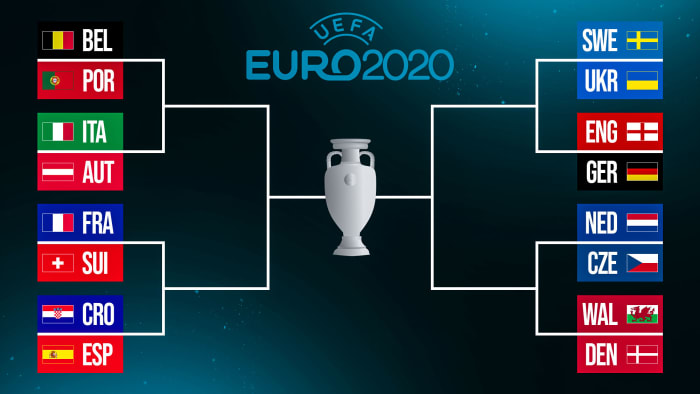 Euro 2020 Bracket: Picks and Predictions for the Knockout Stage
Euro 2020 is a global event and it is very entertaining, but it's about to get serious. The knockout stage is a field of the best 16 teams in the world fighting it out in an elimination tournament. The Euro 2020 Bracket sets the stage for what will be the best event of the year. Buckle in and get ready for the knockout stage as we present our picks and predictions.
Knockout Stage Betting Bonus
Bet on the knockout stage with the biggest bonus on the planet. Sign up today and get up to $2500 to wager on Euro 2020.
Bet Euro 2020 with this exclusive bonus. Get it before it is too late!
Click the ball for the bonus ⚽️
Euro 2020 Bracket: Setting the Stage
Before betting on any match and future champion, you have to look at the betting guide and the bracket.
The next step is to look over the schedule and see when and where the teams will be facing off against one another.
EURO 2020 ROUND OF 16
Saturday, June 26
12 p.m. ET: Wales vs. Denmark in Amsterdam
3 p.m. ET: Italy vs. Austria in London
Sunday, June 27
12 p.m. ET: Netherlands vs. Czech Republic in Budapest
3 p.m. ET: Belgium vs. Portugal in Seville
Monday, June 28
12 p.m. ET: Croatia vs. Spain in Copenhagen
3 p.m. ET: France vs. Switzerland in Bucharest
Tuesday, June 29
12 p.m. ET: England vs. Germany in London
3 p.m. ET: Sweden vs. Ukraine in Glasgow
QUARTERFINALS
Friday, July 2
12 p.m ET: France/Switzerland winner vs. Croatia/Spain winner in St. Petersburg
3 p.m. ET: Italy/Austria winner vs. Belgium/Portugal winner in Munich
Saturday, July 3
12 p.m. ET: Netherlands/Czech Republic winner vs. Wales/Denmark winner in Baku
3 p.m. ET: England/Germany winner vs. Sweden/Ukraine winner in Rome
Picks and Predictions for the Knockout Stage
The picks will be updated daily, but we will start with day one. At this point of the knockout stage, there will not be many upsets because the talent dominates. The best bet for day one of the knockout stage is Italy.